Bespoke Horse Portraits
Perhaps the facet of our equestrian photography for which we are best known is our Bespoke Horse Portraits.  During the Bespoke Horse Portrait we aim to create a beautiful, individual, distinctive and personal portrait of your horse and often the relationship between your horse and/or your family. From the moment you commission us to create a Bespoke Horse Portrait for you, communication between us is key and the beginning of the whole process and critical to the outcome is the Design Consultation.
Essentially a chat about you and your horse, during the Design Consultation we take the time to discuss all the various aspects of your life with your horse that would be advantageous for us to know. Is there a particular time in your life you want to celebrate or is there something you love to do with your horse that you would like us to photograph. Have you got an idea for a photograph or do you want us to come up with something? This can be in person or over the phone, but in order to get the best from your time with us it needs to happen. We can decide on locations, styling, time of day etc. and plan a few potential dates to allow for possible postponements due to weather.
If, as is often the case, we have already met you perhaps at a show when you may have visited our exhibition trailer then we may already have a few ideas in mind as to how we might like to photograph you and your horse.  Chatting with us about your horse and family relationship to the horse, things you like to do, the area in which you live, where your favourite places to exercise your horse are all key to helping us to tailor something we think will delight you whilst at the same time be unique to you.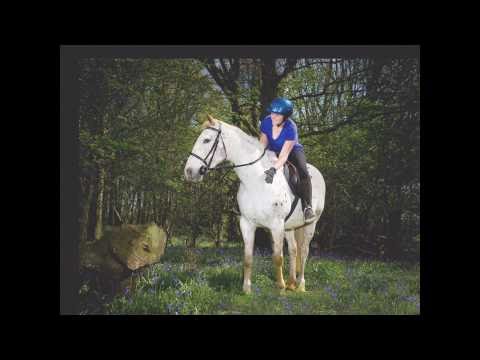 There can be many reasons why you might choose to commission us for a horse portrait at this time.  One of the most common is when an older child has reached an age where they are going off to university and so may not ride so much and their current horse may be the last one they have for a little while.  The beautiful photograph on our website of Hattie and her grey horse in the bluebells was one such portrait – the stunning gown she is wearing is her "prom" dress as this reflects this time in her life.  Other reasons may include that your horse or family pony is beginning to grow old and you want to have some very special images created with them which will reflect the bond between you for many years to come.
You may want some beautiful portraits creating of your children and the bond between their first pony.  Little Harry sat on the ground with his miniature pony and again leading his shetland pony are two such photographs as is the photo, again set in bluebells of little Millie with her first pony.  With Millie's portrait we went to great lengths to find the woods and bluebells and then meet up with Millie and her mum in the woods and helped to advise on what colour/style of dress might work well for Millie.  On the day of the portrait we arranged for an escort to hack with them to the woods for the portrait and obtained the relevant permissions from the landowner for the portrait to take place.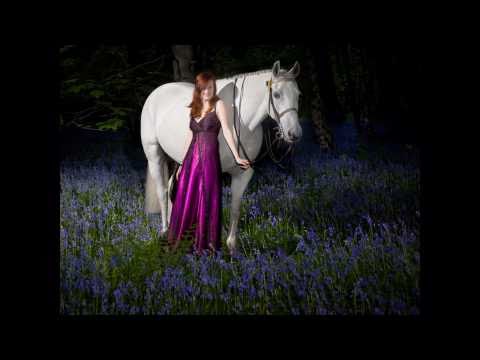 We are often asked to include other animals in our bespoke portraits such as the family dog/s and in one instance the family cat!  We love it when this happens because it means the family are really enjoying the whole creative portrait experience. Why not challenge us with something different?  So far during this past year we've been asked to photograph a lady driving her fantastic shire horse, a gentleman who wanted an image of himself reflected in his horses' eye, a fantastic coloured cob on the beach, a lady in a ballgown in the river with her horse!  In addition to this we've had bluebell woods and cornfields.  We're looking forward this coming year to hopefully photographing horses in a Poppy field (need to find one first and get permission!) and when the snow eventually arrives we have a lady who has commissioned us to photograph her horses in the snow.
During the design consultation we will discuss how we might photograph your horse and set the date for your Bespoke Creative Horse Portrait.
Having planned our time with you and your horse during the design consultation along comes the big day of the Bespoke Creative Horse Portrait so what do you need to do in preparation?  Firstly, as in all things, preparation is key.  We will have gathered vital information about your horse and any concerns you may have about the portrait session itself but the bulk of the preparation is down to you.  If you have a very young horse, perhaps freshly broken in we wouldn't recommend that he is kept inside for days before the portrait for example as he's likely to be full of pent up energy the moment you get him out of his stable.  So good preparation really starts the day before the portrait day when you should if possible make sure your horse or pony has a good ride out or run around the pasture.  If they are stabled overnight then you can start some of the grooming process to get your horse ready to be photographed.
If it's a grey or very light coloured horse or horse with lots of white on it and you have bathed it you may want to consider, for example, putting them in a rug overnight in an attempt to keep them something like clean!  Equally legs etc. can be bandaged as if you are going to a show again to keep them clean.  If you want to plait your horses mane and tail then, in our experience, this is best done on the day of the portrait itself.  You do need to allow yourself ample time, allowing for unforseen events, to enable you to have your equine looking their best.  If we are photographing you during the summer months we can't stress too strongly how important it is, not only for your comfort but for that of your horse too, that insect repellent is applied before the photo-shoot takes place.  We may ask you to stand with your horse for a few minutes at a time whilst we take a number of different "shots" and these can be ruined or difficult to execute if your horse is being bothered by a pesky horse fly or persistent insects!  We'd rather they were comfortable during this time so we'd advocate that insect repellent is pretty much essesntial for your horse.  This doesn't mean it has to be a chemical repellant – there are many alternative "natural" options which we find are very effective.
If we are photographing your horse in his tack then please take a few moments to clean it before the photo-shoot – including headcollars!  This is very important because often our portraits will incorporate really close up images of the detail of the tack or your horse in his tack – so a little spit and polish and maybe leather cleaner goes a long way!
The next aspect of your Creative Portrait to consider and totally beyond anyone's control is the good old British weather!  Should it rain on the planned day of the portrait if it looks like it's just a shower then we will make a judgement call as to whether to proceed or not. However, if it looks like it's set in for the day we will usually work with you to reschedule the portrait.  If you are some distance away from our base in North Yorkshire we will normally call ahead to ascertain what the weather is doing where you are based – so expect a call or text message quite early in the morning if we have some distance to travel!  We will also be keeping a careful eye on the weather forecast during the week running up to the portrait.  If you have somewhere suitable to use which is undercover such as a large arena or barn area then we will discuss with you what you want from your portraits and whether we can go ahead with the planned day indoors.  We bring with us a variety of creative lighting equipment so photographing indoors is really not a challenge to us.
We often use flash lighting when photographing horses.  It's something that has been said by other photographers in the past horses will not tolerate.  We know from experience that if you approach it in the right manner and work with the horse to take away any of their fears that it is very rare for a horse not to tolerate or to be upset by the use of artificial or flash lighting.  Sometimes we need to take a few moments desensitizing the equine to the flash but we always take the necessary time however long it takes.  Should the flash be upsetting the horse then we would not use it but so far, by using our tried and tested methods we have not encountered such a situation.  The unique lighting effects we are able to create using our equipment is one of the aspects which sets our equestrian photography apart from that of other photographers.
During the Bespoke Creative Portrait we will take a variety of different photographs of your horse and, if applicable, you and your family.  Following the day of the photo-shoot we will arrange a mutually convenient time for you to view and choose your portraits.
We prefer to undertake the viewing of your portraits where possible in our studio viewing room at our Boroughbridge, North Yorkshire studio but sometimes, due to the distance involved this is not always possible.  Depending on the distance involved sometimes we will stay overnight in an area and edit and prepare your portraits for viewing the following day.  We will then return to your home and where possible link into a large screen TV or use our laptop to enable you to view and choose your favourite portraits.  We will also plan with you the most effective and desirable dispaly method for your chosen portraits – to best match with your existing decor and your personal taste.  There is a massive range of display options available to you and often our wall portraits are created bespokely for our clients rather than "order by numbers".  Any size and design is, within reason, possible.
One thing you should bear in mind and consider when commissioning us for a Bespoke Creative Horse Portrait is that you WILL want to buy some, if not all of the images we create for you.  Whilst we do not operate on any level any "hard sell" tactics our images do sell themselves and you should be prepared to make some investment with us.  We will have invested in you and your horse a considerable amount of time and skill in creating your portraits and you should be aware from the outset that whilst we are by no means the most expensive equestrian photographers around we are not the cheapest either.  We do not offer our Bespoke Creative Portraits at event photography prices – it is simply not a viable option to do this.  There is no part of our Creative Horse Portrait process that would enable us to cut a big enough corner to charge event prices so please do not expect this to be the case.  Without exception however all of our clients to date have expressed that they consider our prices to be excellent value for money!
Want to book for yourself or someone you love? Our Gift Vouchers offer suberb value with products included and the option to add a gift box with an extra framed print from your photo shoot included for only £25 – bargin!
Two hours of our time with the lucky recipient and their horse, anywhere in North Yorkshire and a beautifully hand printed 10″ image of their choice is included in this special gift, or a beautifully printed and framed 16″ canvas.
If you are based outside of North Yorkshire we may ask for a contribution towards travel. If you persuade one of your friends who live near to you to book a shoot on the same day, any travel costs can be shared.
There are no value amounts printed on your gift certificate so you can give with confidence and you also have room for FREE PERSONALISATION and a short message from you to be printed straight onto the gift voucher.
They have a 9 month expiry date printed on the front to make sure they get used too!
Want to make your gift EXTRA SPECIAL? For just £25 your Gift Certificate will come with a 8″ frame AND a £50 OFF gift card – Excellent value and a great finished and gift-wrapped present!
Now at just £50 (was £99) with a 10″ print included or £129 (was £249) with a beautifully printed and framed 16″ canvas it's easy to order.  Pay securely with PayPal below - (will open up to 'The Portrait People/The Horse Photographers' PayPal payment page).  Please allow upto 14 days for delivery during peak periods, but we will always do our best to get it to you as soon as possible!
To add your FREE personalised message fill out the 'message' box on the payment page where you can select the 'Gift Box Option' if you wish too.